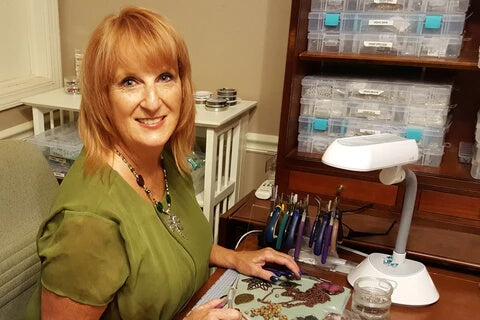 Hi, I'm Pamela Arzinger, the creative force behind Arzinger Design
About Pam, Owner & Designer
"I was struck with creative lightning when I made jewelry for the first time. It has been a firestorm of passion ever since."
-Pam Arzinger
🤍
Once the fire was sparked, Pam's creativity couldn't be stopped. Now every waking moment of hers is filled with thoughts of beads, baubles, and bling. 
🤍
When designing, Pam is in her element. It's a messy process, but being surrounded by piles of beads and charms makes her mind mix and match faster than her hands can move. It's her happy place and source of inspiration. When she is in the moment and gives in to her creative impulses, things magically come together. It's not a pre-planned process, the design just happens.
🤍
When Pam started gifting her designs, her friends loved them so much that she knew she was on to something bigger than just a hobby. Today, Pam sells her creations at art shows, on her Arzinger Design website, on Etsy, and in coastal boutiques. 
🤍
When she's not working in her studio, Pam enjoys teaching at the Rehoboth Art League and spending as much time as possible on the Delaware and Carolina beaches.
About Arzinger Design
A dragonfly is the symbol of Arzinger Design. It's beautiful colors, and because it lives in harmony with water, makes it the perfect choice to reflect our beach styled jewelry creations. To remind the wearer of its connection to the ocean, a small dragonfly charm adorns each piece.
🤍
Our creations are a reflection of nature, in particular the beach. When you think of summer, it's likely that a relaxing day by the water on a sandy shore comes to mind. The warm feeling of sand between your toes, water lapping over your feet, and the sun on your face - there is nothing else like it. 
🤍
To remind you of this special time, our pieces are made so you can keep your favorite beach memories with you, even when you're back home living your day to day routine.
🤍
At Arzinger Design, we make versatile and wearable art made with sea glass, Swarovski crystals, gemstones, glass pearls, rhinestones or specialty metal charms. We combine these elements with gold or silver tones. 
🤍
If you have something specific in mind, we are happy to design a custom creation for you.
🤍
From casual to night on the town accessories, you can find a piece in our shop that will be perfect for your style and fashion needs.
SAVE 20% ON YOUR FIRST ORDER!
As a member of our exclusive Dragonfly Club you receive:

• Exclusive Discounts throughout the year

• Seasonal Hints and Tips

• Sneak Peek at newest Collections
*Excludes Wholesale Orders